The Dallas Quilt Show had it all!
No matter what we tell ourselves when we go in to the convention centers for large quilt shows … "I'm just going to look at the winning quilts" or "I need inspiration" … we are going to shop.  It can't be helped!  And even on limited budgets, we can still come home with a few prizes which will make our future creating even more joyful!  Here are the things I found irresistible and the vendor booths I most admired and enjoyed at the Dallas Quilt Celebration 2013.
Quilt Mercantile
I don't usually go for "cute" but I have to say that the Quilt Mercantile booth won my appreciation as Best Dressed booth!  The displays were adorable and really creative.  The booth was well stocked, busy, and the staff as friendly and helpful as they are in their Celeste store – which is, by the way, one of the largest quilt shops in N. Texas with 5,400 sf of brilliantly chosen variety of fabrics and every notion and tool you could ever need.  Their classroom is big, well laid out and lit, and their retreat center one of the best in the country (and I've been to many!).  They also have a full featured website:  www.quiltmerchantile.com.
Another thing I appreciate greatly about Quilt Merchantile is their machine knowledge and inventory.  Here, Jackie Brown, renown award winning quilter and pattern designer at JackiesMachineQuilting.com, guides a guest using the fabulous HandiQuilter Sweet 16.
Compass Centre
The Compass Centre booth was the busiest booth at the show.  I was intrigued by how many people could be in the booth – and down the isle in line.  Compass Centre staff never stopped smiling and multi-tasking.  Their booth looked great, too!  Best known as a retreat center – the Compass Centre store is a jewel and their kits always, always beg me to take them home.
"Fireworks" (pattern by Alice Wilhoit – alicewilhoit.com) on display at the Compass Centre booth.
Cheri Meineke-Johnson's Crystals.
First, Cheri is so friendly and approachable, I would be drawn in by her personality even if the sparkling, shiny things didn't suck me in (and they do!).  Her crystals are gorgeous, affixed with a smart little heat adapter, and affordable.  Award winning personality and great product – Cheri's Crystals is on the top of my list!
I spent so much time in this booth, practically HUGGING the thread, that the rep surely thought I was a bit insane … and I FELT a bit insane.  Choices.  SO MANY CHOICES!  I had a budget and was determined to stick to it.  I also needed every single color of Rainbow and variegated thread (yes, NEEDED … as in NEEEEEEEDed), Oh – and So Fine in the basic colors…and who can walk away from King Tut?  Oh!  Oh!  And Magnifico in such glistening colors (sorry die hard 100% cotton thread police… I do appreciate a poly-blend because it does not leave nearly as much thread-dust in my machine and my machine is PICKY about thread dust … plus the sheen … and the price – there's much to love about this thread!).
So – yes, I shopped, and shopped.  And left the booth $2.00 under budget.  HAPPY QUILTER!  I think the rep was a little relieved to see me go.  I really was bouncing all over that booth like a small mental  metal object in a pin-ball machine.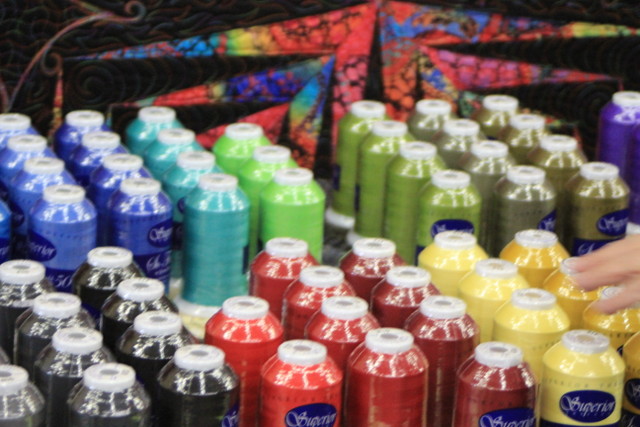 More thread.  These caught my eye because of the sheen in the color braids.  I would just love to bathe in this display!
Joy's Fabrics
And this is where I blew the budget – not because the product is expensive – quite the contrary – it is very reasonably priced – but because I had already spent the funds allocated for the show.  I had walked past this booth twice, exercising sheer will-power to stay out of it (I've tried that many times at other shows and rarely succeeded).  But now that I am painting my own fabric, I decided I did not NEED to buy hand dyed fabric from any one else.  Finally, on the third pass, I succumbed.  I had to buy panels of Joy's beautiful work.  It is such gorgeous fabric that I, who rarely hesitates to cut right in to fabric, can hardly bring myself to use it.  It is a piece of art unto itself!  Visit JoysFabrics.com and you'll see why going over budget was the perfect ending to a great Quilt Show.
MINE!  MINE!  MINE!